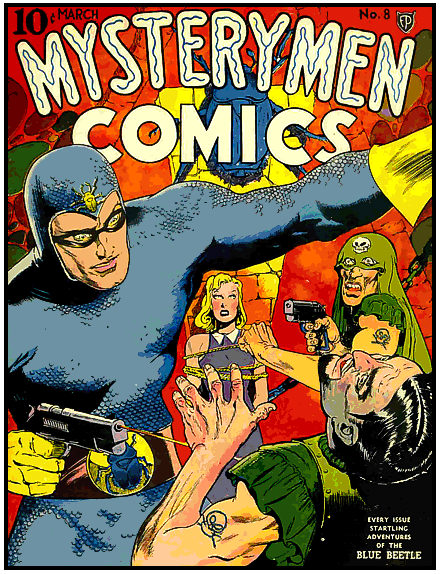 Heroes: Tom Campbell, Candid Charlie, Cannoball Cannon, El Capitan, Dick Kent, Laughing Mask, Liberty Boys, Spike Mason, Mister Twister, Bill Rodman, V-22. Modify: Battling Beau Brummell, Bulldog Denny, Viking Carter, Voodini.
DC Heroes: Cap'n Erik
Timely Heroes: Captain America (I & II), Eternal Brain, Human Top, Magar the Mystic, Hurricane, Mercury, Comet Pierce, Red Raven.
Villains: Black Hand, Boss 'X', the Brain, Doctor Devil, the Eel, Professor Einmetz, Gorgon, Half-Man, the Leader, Mercury, Monster, Oom, Reaper, Toad, Un-named - Brotherhood of the Skull, Dr. Van Ridder, Whizzo Modify: The Scorpion (II).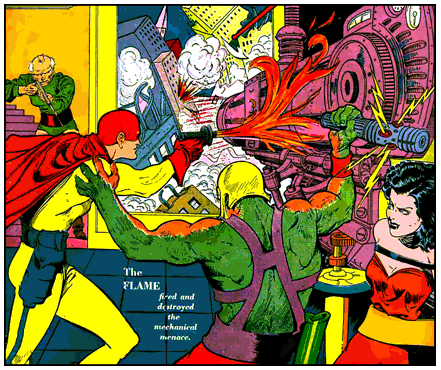 11-13-13
Heroes: Tom Barry, Defenders, Dr. Fung, Joe Spook, Tommy Taylor, Tommy Tomahawk Modify: Eagle, K-51, Tom Maxon, Patty O'Day, Captain Derek West.
Villains (New Profiles):Black Doom, Fu Chu, The Hand, Man Without a Face, Monster, Mustafa, The Noose, Red Lash, Scarecrow, Der Teufel, Ugly Puss, Unholy Three, Un-named - Green Thor and the City Destroyer, Un-named - The Horned SKulls, The Voice, Baron Von Tootree, Vladim, Volton, Voris the Fire Master, The Yellow Horde.
Fawcett Villains: Man Without a Face, Masked Chef. Modify: Limping Mummy.
Timely Villains: The Voice.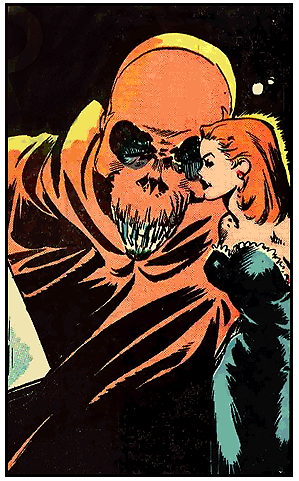 11-01-13
Heroes: Black Bloch, Calhoun of the Air Cadets, Clipper Kirk, Captain Sheridan (aka Tim Cassidy, Spitfire Ace, Yankee Thunderbolt). Modified: Blaze Steel, Spitfire Ace, Jane Martin.
Villains (New Profiles): Baroness Von Hohenlinden, Crime Boss, Karl Von Richten
10-17-13
Heroes: Peter Grit, Inspector Kirk of Scotland Yard, Bob Kodar, Leatherneck Jones, Little Giant, Pal Peyton, Phantom Knight, Rodeo Ryan, Space Ace, Teller Twins, Undercover Girl, Un-named Lady in Peril, Roger Wright Modified: Lynx, Silver Streak, Jack Terry, Wraith, Zudo
Villains: Baron Doomsday, Countess Belladonna, Death, Death Master, Fantasy Isle, Hooded Man, Manx, Searer, Un-named Villains: Demon of the Lamp, Eerie Man, Nazi Clan, Roc, Torture Master Modified: Avenging Axe
DC Heroes: Jack Woods
Quality Page: Heroes: Granny Gumshoe, Wilda/Nuisance, Steve Wood Villains: The Air Gang, Faux Plastic Men, The Hag, The Hawk, The Noose, Perkins and his Pelican, The Sexton, Splinter
Timely Heroes: Super Slave, The Terror, The Witness I & II
Timely Villains: Sub-Earth Man
10-11-13
Heroes: Earthquake, Spook Hunters Modified: Red Robbins
Villains: Retlih
Quality: Chic Carter, Eagle Evans, Steele Kerrigan Villains: Madam Brawn, Hangman, Dr. Scratch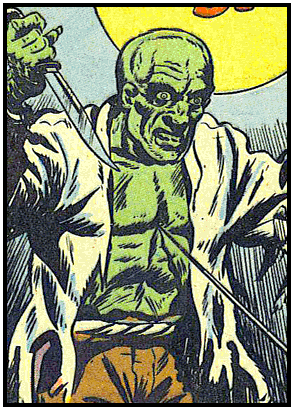 09-11-13
Heroes: Lance Darrow Modified: Tim Dawson, Grim Reaper, Magnet, Red Robbins
Villains: New Profiles: Bulvo, Crimson Conqueror, Hooded Hexmen, Pierre La Morte, Rook, Vanza of the Vultures, Wrecker, Zombie. Modified Merciless the Sorceress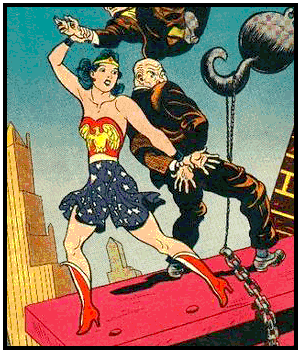 09-04-13
Heroes: Long Bow, Rocket Riley
DC Heroes: Bruce Nelson, Nighthawk, Wonder Woman
DC Villains: Rosa Rinaldo, Sen Yoi, Modified Fang Gow
Advertising Heroes page: Captain Tootsie and the Run-away Horse.
08-30-13
Heroes: Danjoe, Captain Frank Hawks, Captain Tornado, Prince Otembi, Un-named - the Witch, Winged Warriors, X-23 Modified Don Winslow
Villains: Assinoff, Black Phantom, Chen Chang, Professor, Professor Weathersby, The Skull, The Skull (another one), Un-named - The Green Mandarins, The Weather Kings. Modified Dr. Centaur
Fawcett Villains: Black Rider, Death Dealer, Ear, Mr. Death Modified Honest John, Horned Masks
MLJ Heroes: Moore of the Mounted Modified Ben Johnson, Kardak, Kayo Ward, West Pointer.
MLJ Villains: Corrected Princess Cleo.
Quality Heroes: Sherlock Doyle, Madam Fatal, Red Torpedo, Wings Wendall, Whistler, Wildfire Modified Lee Preston
Quality Villains: Black Morda, Captain Krawl, Clown, Cricket, Ghosts of the Glen, Green Masked Bund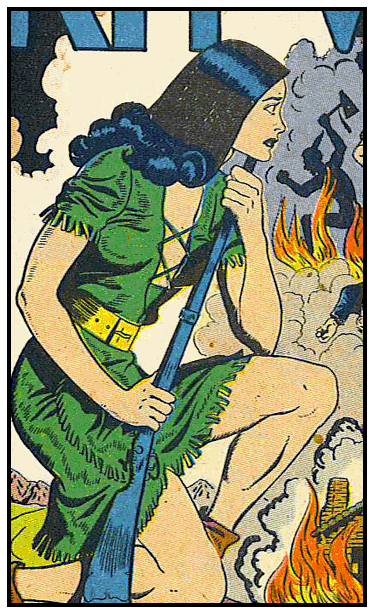 08-23-13
Heroes: Captain Death, Front Page Peggy, Ras Singh, Trouble-Shooter, Werewolf Hunter, Captain Derek West, Kit West, Whisperer, Whistlin' Kid, White Indian Modified: Air Rover, Alabam, Billy West
Villains: Baron Satakai, Black Samurai, The Claw, Creeper, Faux Green Hornet. Modfied: Corpse, Lynx, Porcupine
DC Heroes: Les Watts, The Whip, Wildcat
DC Villains: Karvac
Fawcett Villains: Headless Horseman, Herr Zero
Quality Villains: Bubble Head Breen, Ice Man, Mr. Fission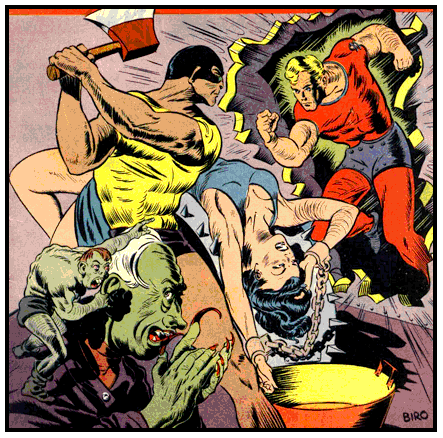 08-16-13
Heroes: Buck 'n' Broncho, Detective Sgt. Burke, Smoke Burnam, Burma Burns, Smoke Bush, Happy Chandler, Danny Dash, Little Lobo, Mustang Jack, Peace Raider, Yank and Rebel, Yankee Patrol, Yellow Jacket Jr., Young Avenger, Young Falcon. Modify: Dash Dartwell, Dr. X, Greg Gilday, Wild Tex Martin, Phantom of the Hills, Steel Shark, Young Americans.
Villains: Black Legion, Black Terrorist, Devil of the Deep, Finger of the Frozen Death, The Gray Hordes, Herr Monocle, Hooded Men of Tibet, The Killer/Dart Killer, The Law of Caribou, Merciless the Sorceress (I), Mystic Knights of Bagdad, Sikandur, Voodoo, War Master/Warmaster
Fawcett Heroes: Red Skye
Fawcett Villains: Baron Von Togo
MLJ Heroes: Detective Sgt. Burke, War Eagles Modify: Clancy and Loony, Nevada Jones, Red Reagan, Steel Sterling
MLJ Villains: Ming Low, Mr. Nimbus, Princess Cleo, Queen Loha, Tania and Neek-olaus, Yum Chac Cult, Un-named Headless Men, Un-named Inferno Demon, Un-named Torture Squad Modify: Twisto
Quality Heroes: Paul Bunyan, Cyclone, Kid Dixon, Kid Patrol, Merlin, Q-Boat, Yankee Eagle (I) & (II).
Timely Heroes: Sun Girl, Young Allies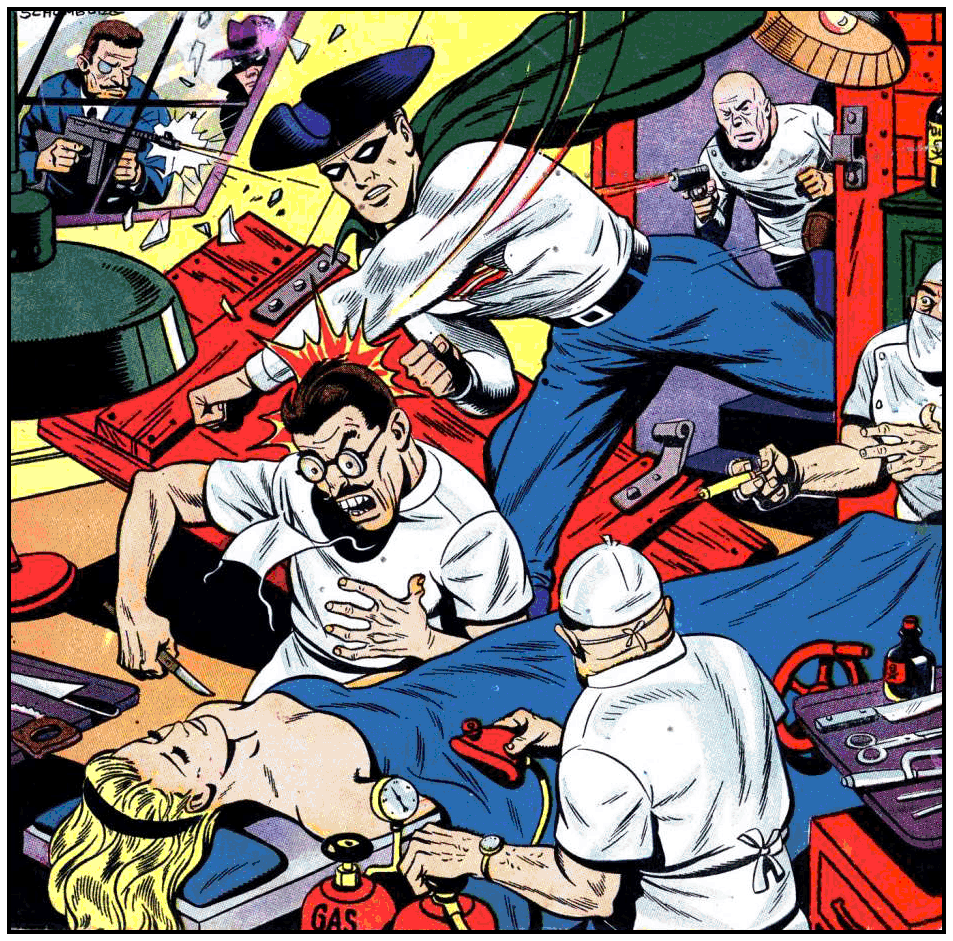 08-09-13
Heroes: Jay Brooks, Captain Courage (II), Captain Cutlass, Vic Flint, Harbor Patrol, Johnny on the Spot, Ted Hart, Marietta, Masked Blackjack, Ol' Skipper, Ol' Skipper Webb, Inspector Pratt, South Sea Girl, Pepper Swift, "Globe" Trotter, Tugboat Tessie, Unholy 3. Modified: American Eagle, Barry Kuda, Captain Courage, Four Comrades, Gay Desperado, Jungo/jungol, Lady Satan, Master Key, Sky Chief.
New Profiles of Villains: The Ape, Black Hawk Gang, Dr. Syko, Dr. Vetter, Cindy Ford, The Gibbet, Invisible Menace, Kharma, Krag, Dr. Diablo (II), The Prophet, Red Regent, Signor Diablo, Sinistro, The Skeleton, Skeleton Horsemen, Mr. Skugg and Angel, Sleep King, Spider Master, Tarantula, Un-named - Green Spider, Un-named - Mad Doctor Gang, Un-named Masked Devil, Un-named Monk and Ham, Dr. Wolfe. Modified: Black Satan
Quality: Rock Braddon, Ned Brant, Lion Boy, Don Glory, Hell-Diver, Orchid.
DC Heroes: Captain Quick, Detective Sergeant Carey, Steve Conrad, Dale Daring, Ivar, Mark Marson, Red Riley, Captain Douglas Stewart
DC Villains: Nira-Q, Dr. Hugo Vreekill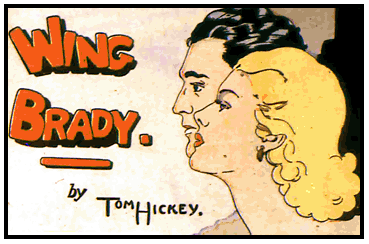 07/26/13
Once again fixed the Princess Pantha link.
HEROES: Chessmen, Igor the Archer, International Crime Patrol, Madelon, Van Manhattan, Tex Maxon, Midnight the Black Stallion. Modified: Crimson Rider (corrected publication history and more backgound), Joan Mason.
DC Heroes: Buzz Brown, Buccaneer, Buckskin Jim, Captain Grim, Midshipman Jack Dewey, Guardian and the Newsboy Legion, Hope Hazard II, Johnny Law, Liberty Belle, Marty McCann, Bob Merritt, Mr. America, Mr. Terrific, Sargon, Modify: Dr. Occult
DC Villains: Black Magician, Captain Snegg, Dr. Ito, Henri Duval, Koth, Methuselah, Miss X, Queen Bee, Queen Claudia, Purple Tiger, Werewolf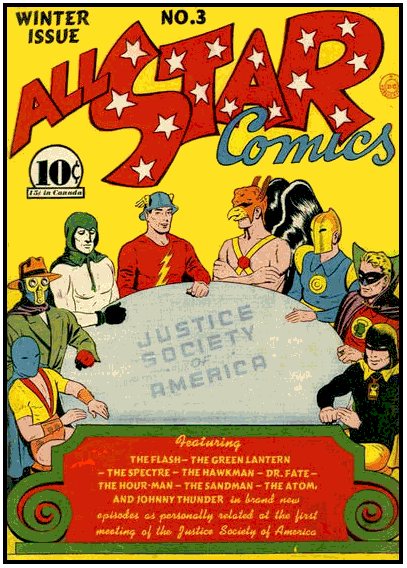 07/19/13
ADDED pages for DC Heroes and DC Villains with the links to the left.
HEROES: Shane Dare, Captain Steve Ransom, Bart Regan Modified: Captain Yank, Zomba I.
QUALITY: Heroes: Captain Triumph. Villains: Mr. Sprigg, modified Sitok.
07/12/13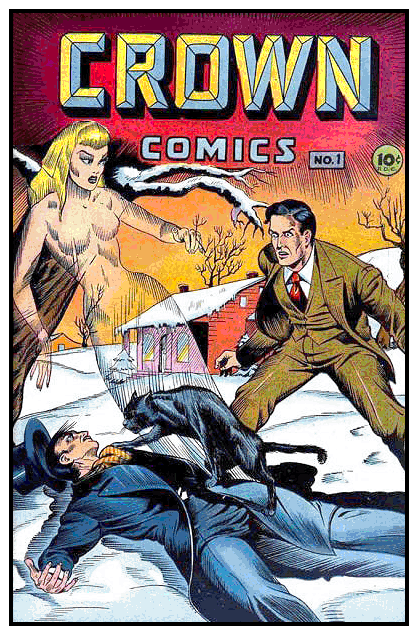 Heroes: Larry Broderick, Broncho Bill, Duke Buckland, Dr. Doom (III), Dr. Whisper Drew, Buck Farrel, Art Fenton George Ferguson, Mr. Graves, Grey Comet, Harry Hotspur, Clue Kelly, Jim Lane, Linda Lens, the Mosquito (II), Mickey Magic, Bob Scott, Secret Agent RS-11, Cpt. Blaze Steel, Sledge Storm, Voodah
MODIFIED: Tiger Girl
QUALITY: Spin Shaw
Villains: NEW: Faux Rulah, Mad Arsonist, Metal Man, Monstro, Triangle. MODIFIED: He-She
QUALITY VILLAINS: Crimson Claw, Stretcho. Modified: Brick Bat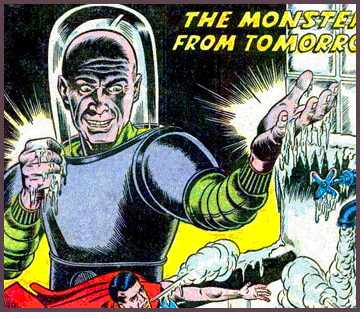 07/05/13
Heroes: Jimmy Blue, Clem Bowers, Boy Rangers II, Betty Boyd, Bill Cosmo, Doc Doyle, Egan of the Homicide Squad, Gordon "Iron" Gates, Captain Halyard, Miss Liberty, Pat O'Day, Tim Roberts, Red Rogers
Modified Dave Dean, Tom Kerry, Liberty Lads (separated into two entries), Rocky Ryan
Added images to Cap Stone, Captain Storms
Timely: Dave Dean, Fighting Hobo, Jonah Lamb Villains: Rex Herr, Professor Maluski
Villains (New Profiles page): Captain Hood, Cosmirayer Gang, Cruor, Faces Benny, The General, Mat Mahata, Masked Man, Phantom Killer, Phil Rogers
Quality: Modified and corrected the villain Frio information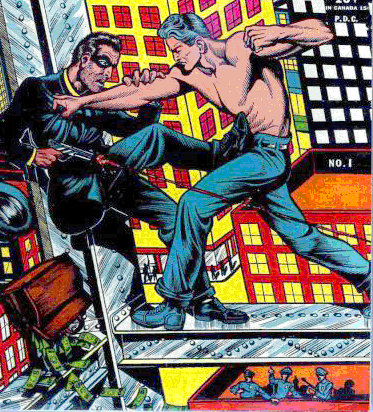 6-11-13
Heroes: Cap'n Digg Bailey, Brett Barton, Homer Beagle, Bigbrain Billy, Bill and Davey, Bingham Boys, Black Bull, Black Raiders, Blackstone, Bonnie, Sgt. Jim Craig, Captain Cutlass, Terry Dean, Yank Dillon, The Ghost (III), Scoop Mason, Jerry Minton, Miss Espionage, Johnny Nebisco, Night Devils, Rod Rion, Scott Skip,Ted Strong, Undercover Man, Un-named (The Ally), Un-named (Bare-knuckles Jack), Boxie Weaver, Whistler Modify Black Wings, Captain Battle (how he lost his eye), Sky Hawk
Villains: Block Buster Barton, Captain Lash, Crime Merchant, Dr. Mephisto, Masked Czar, Master of Birds, Professor Morgan Le Faye, Rhang
Quality Heroes: Betty Bates, Bill the Magnificent. Modify Kid Eternity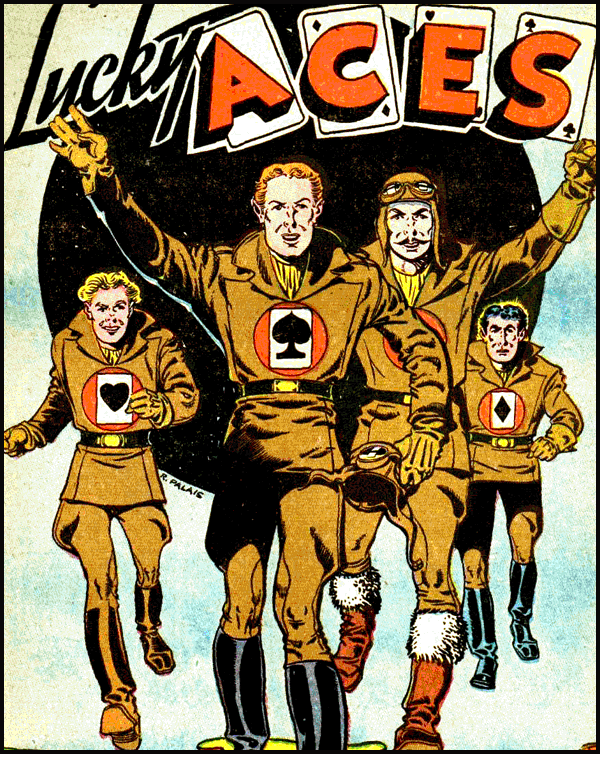 5-31-13
Heroes: Dusty Ballow, Crash Barker, Barnstormer Barnes, Frances Craig, Eagle Scouts of Rosedale U.S.A., Lucky Aces. Modified: Spirit of '76, Calamity Jane
Villains: Green Fog, Juggernaut of Destruction, Thinking Ape
Fawcett: Heroes: Hoodoo Hannigan, Modified Balbo Villains: Dr. Krool, Madden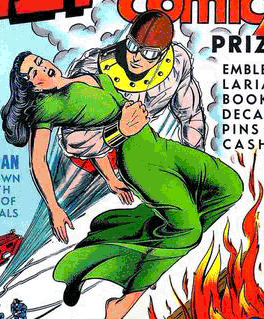 05-24-13
Heroes: Added Biff Baker, Lt. Tom Phillips, Pioneer (I). Modified Flying Phantom and Phantom Flyer (both apparently the same character), Hydroman, Nightro, Rainbow Boy, 13.
Quality Heroes: Added 711, Zero
Villains: The Avenger, Faux Pirate Prince, Hun, Ah Ling, Lone Leopard, the midget, Miss X, Phantom Driver, Dr. Plantz, Princess Sheba, Red Scorpion, Ruby Khan, Spider Woman
Modified Captain Kidd (title name).
05-03-13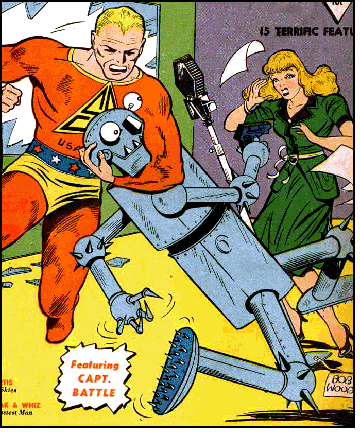 Links: Fixed Quality link, it was linking to an old page. Added Timely pages links. Created a separate page for the "British Storypaper" characters and moved the several that I have to that page. Will be adding more in the times to come.
Heroes: Bronco Shot, Atom Wizard I and II, another Pat Patriot, Rick Rawson. Modified: Braily of the Tropics
Villains: Profile Updates: The Heater, Faux Pirate Prince, Jig and Blackie, The Night, Red Raider I,
Modified Iron Jaw I.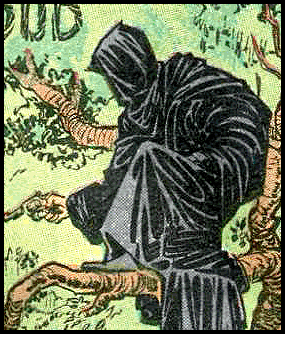 4-26-13
Heroes: Ace and Deuce, Disco, Dan Read, Son of Aztlan, Ace Williams, Dr. Styx. Modified: Dr. Miracle, Hyper.
Quality: Heroes: Samar. Corrected Swing Sisson (apparently thought his last name was "Swisson"). Villains: Countess de la Muerte, Dr. Jade, Jay Bird, Piper
Fawcett Villains: Black Shroud, Daffy Desperadoes
Villains: New Profiles: Ghost Riders, Sivad, Sky Pirates. Modified: Black Hood, Chang, Mitzah (date, issue, image).
Advertising Heroes: Captain Tootsie and a log jam.